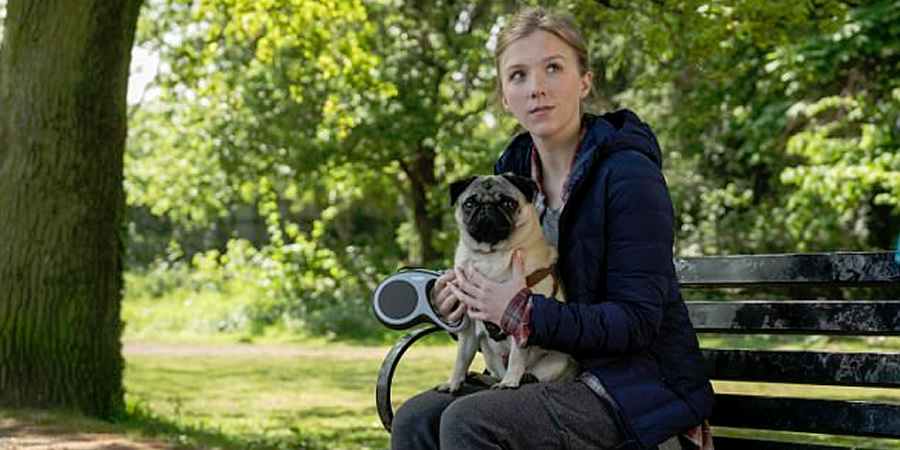 I'm normally quite a serious film viewer and generally avoid romcoms, but Patrick the pug's face has been staring at me from film posters for over a week now and I felt drawn to go and see this film about a young woman who inherits a pug.
Sarah (Beattie Edmondson) has just split up with her boyfriend and is about to start a new job. So she is less than delighted to inherit her grandmother's most treasured possession - Patrick a cute, lively and very naughty pug. Sarah doesn't even like dogs and her flat is supposed to be pet free which means Patrick causes problems from the start and he soon starts misbehaving once Sarah leaves him unattended during the day.
Sarah initially finds her new school very challenging, trying to engage bored teenagers in appreciating Jane Eyre while the deputy head teacher makes disparaging comments at every opportunity.
Sarah's life changes for the better as she finds a new home, takes part in a fun run and makes friends among the staff, finds ways of kindling her students' interest and finds that Patrick not only is surprisingly endearing but also helps her to meet new men.
The acting is consistently good, but it is Patrick who steals the show with his clever tricks and antics. He has a wonderfully expressive face and total screen presence. I found it odd that when the credits rolled his name wasn't included (I was curious to know how many pugs had been used as actors in the role).
Sometimes silly, sometimes predictable but always entertaining this is definitely a romcom for the pug lover.
Patrick is screening as part of the
Edinburgh International Film Festival
at 1800 on Thursday 28 June at Filmhouse. You can book tickets
here
.
You can read my other reviews from this year's film festival by following the links below:
Postacards from the 48%
- documentary about Brexit
We the Animals
- growing up in a rural idyll doesn't guarantee a happy childhood
Island of the Hungry Ghosts
- meditation on migration and detention on Christmas Island
Kayak to Klemtu
- a young First Nations woman kayaks to her home town to protest against a pipeline
Supa Modo
- a super-hero film with a difference
Becoming Animal
- meditative documentary about the human relationship with nature
Science Fair
- documentary about brilliant young scientists attending the International Science and Engineering Fair
Disclaimer: I have a press pass for the Edinburgh International Film Festival and attended a free press screening of this film.